Join us for Halloween fun in Spooktacular St. Marys!
On Saturday, October 28, we're celebrating all things fun and spooky with photo opportunities, trick-or-treating, a pet parade and costume contest and cemetery tours. Check out the full details below.
---
St. Marys Farmers' Market & Photo Opportunity | 8:00 a.m. - 12:00 p.m.
Join the St. Marys Farmers' Market at Milt Dunnell Field for their last outdoor market of the season!

Stop by the Red Pickup Truck and have a family photo or a photo in your Halloween costume taken by a photographer. The Farmers' Market is accepting donations to the St. Marys Salvation Army Food Bank in exchange for photos.
St. Marys Museum Cemetery Walking Tours | 10:00 a.m. & 12:00 p.m.
This tour will include a brief overview of the history of St. Marys cemeteries, a walk through the cemetery highlighting unique and significant graves, and a quick tutorial on how to research your own ancestors using cemetery resources.
Times: 10:00 a.m. & 12:00 p.m. (tours will be approximately 60 to 90 minutes long).
Cost: $10 per person, payable by cash or cheque.
Pre-registration: Required as the tour has limited space. Please email museum@town.stmarys.on.ca or call the Museum at 519-284-3556 to reserve your spot.
Weather: Unless there is extreme weather, the tours will run rain or shine. Please dress appropriately and wear comfortable shoes for walking.
Accessibility: This walking tour will take place on site in the St. Marys Cemetery. The tour will not always be on paths and will cross through grassy areas and down hills. The ground in the cemetery is uneven and some monuments can be tripping hazards and difficult to see. Please be aware there are also long periods of standing.
Howl-O-Ween Pet Parade and Costume Contest | 10:30 a.m.
Join with your costumed furry friend or come as a spectator to enjoy the pet parade!

Meet at Town Hall at 10:30 a.m. We'll parade on the sidewalk, downtown to Water St. and back to Town Hall for the best costume prizes. All pets will receive a treat bag for participating.

All prizes and treat bags have been generously sponsored by Pet Valu St. Marys.

Professional photo opportunity and 'Stonetown Dog' bandanas sponsored by Kristine Tanner, Real Estate Broker, Peak Select Realty Inc Brokerage

Participants are required to observe the following guidelines:


1. Pet owners are responsible for their animals and are responsible to ensure that their pet is properly socialized, non-aggressive towards strangers and other dogs.
2. Pets must be neutered or spayed to participate.
3. Pets must be on-leash (non-retractable).
4. Pets must be accompanied by an adult leash-holder.
5. Pet owners must pick up after their pet.
6. Pet owners are legally and financially responsible for any damage or injury caused by their pet.
7. No exotic pets please.
8. Event organizers reserve the right to ask pet owners to remove their pet from the event as needed.
Trick-or-Treat at St. Marys Downtown Businesses | 11:00 a.m. - 2:00 p.m.
Dress up and trick-or-treat at participating businesses downtown! Participating merchants will be handing out candy from 11:00 a.m. - 2:00 p.m. to anyone in costume.

Look for the decal below in participating windows.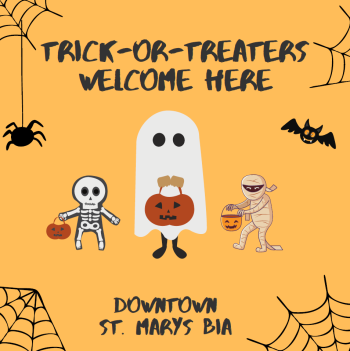 St. Marys Community Players 'Opening Night' Performance | 2:00 p.m.
Get your tickets for the St. Marys Community Players matinee performance of 'Opening Night', a Comedy by Norm Foster, at the Town Hall Auditorium.

The madcap antics start as Jack and Ruth Tisdale celebrate their twenty-fifth wedding anniversary with an evening at the theatre. It's a dream come true for Ruth and an imposition for Jack who would rather be at home watching the World Series. However, after the events both on and off the stage that fateful night, their lives and those of all of those involved are irreparably altered.