Posted on Tuesday, July 04, 2023 12:19 PM
Fun for everyone July 14 – July 16
The wait is almost over! The 26th edition of the annual Stonetown Heritage Festival takes to the streets and parks of St. Marys in just over a weeks' time.
Local duo "Now and Then" kicks off the Heritage Festival on Friday, July 14 covering an array of your favourite oldies. The free concert takes place at the Cadzow Park amphitheater from 7:30 to 8:30 p.m. A free outdoor movie will follow at dusk, presented by The Friends of the St. Marys Public Library.
Saturday begins with delicious...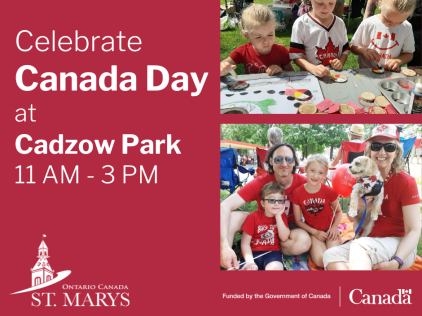 Posted on Monday, June 12, 2023 04:27 PM
Celebrate our nation with outdoor fun and music on July 1
There's no better place to party on Saturday, July 1 than Cadzow Park in St. Marys! Come celebrate our nation, rain or shine, from 11:00 a.m. to 3:00 p.m.
Start the day with the popular Canada Day parade! This ever-growing parade departs the Pyramid Recreation Centre at 11:00 a.m., then makes its way downtown and ends at Cadzow Park. The parade is free to enter; register your float by calling organizers Don and Margaret at 519-284-1548....
Posted on Wednesday, May 31, 2023 09:55 AM
A solid Saturday from morning until… Rotary Fireworks!
The Saturday of this year's Stonetown Heritage Festival will be chockablock with a variety of live entertainment, much of it new to the festival!
"The festival is just over a month away on July 14 to 16," says Town of St. Marys Events Coordinator Alanna Bowes. "Saturday's programming will definitely be a highlight!"
The intersection of Queen and Wellington Streets will feature demonstrations and performances throughout the day from Dragon...
Posted on Monday, May 09, 2022 12:27 PM
St. Marys' free kayak borrowing service, the Yak Shack, returns Tuesday, May 24 after the Victoria Day long weekend with a few changes. Kayaks must be pre-booked online this year. Online bookings will open one week prior to available timeslots at discoverstmarys.ca starting Monday, May 16. Due to demand, timeslots will be two instead of three hours long and Sunday bookings will be available in July and August.
Launched last summer, the Yak Shack allows the public to book single-person kayaks for...
Posted on Wednesday, February 02, 2022 02:12 PM
Hindsight will be 2022 this July in St. Marys
Mark your calendars for the party of the decade that's worth waiting 12 years for!
After a two-year delay, the Homecoming-Heritage 2020 committee – renamed the Homecoming-Heritage 2022 committee -- has resumed planning a blockbuster weekend of fun for residents, former residents and visitors alike from July 1 to 3.
"We're excited to move forward with this incredible weekend," says Homecoming-Heritage co-chair Wayne Murray. "It's been a long time coming...