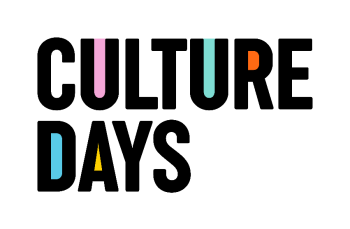 St. Marys is proud to highlight arts and culture in our community through Culture Days 2023.

What is Culture Days?
Culture Days is a national celebration of arts and culture. Culture Days programs invite the public to get hands-on and behind-the-scenes to highlight the importance of arts and culture in our communities.

View the St. Marys Culture Days Festival Hub here.

2023 Culture Days Event Schedule
Self-Guided Heritage Walking Tour | September 22 - October 15
Discover the hidden gems and rich history of St. Marys on our series of self-guided walking tours. Choose from three unique tours that will take you on a journey through time and showcase the beauty of our charming town.
From stunning architecture to picturesque vistas, St. Marys has a special character all its own.
Click here to view the walking tour guide.
Self-Guided Museum Scavenger Hunt | September 22 - October 15
Discover local history through a fun and educational scavenger hunt at the St. Marys Museum. This find-the-object scavenger hunt allows you to explore the Museum's exhibits and learn more about the community.
Completed scavenger hunts will be entered into a draw to win $10 of St. Marys Money.
This self-guided activity is available during the St. Marys Museum's regular hours of Monday to Friday from 9:00 a.m. - 4:00 p.m.
St. Marys Station Gallery: Maaike Roosendaal Exhibit | September 22 - October 14
This exhibition by Maaike Roosendaal is the perfect example of 'Creative Photography' as works of art. Every item in each photograph is created by the artist: wigs, headdresses, jewelry and, in some cases, the clothing. The models are staged, dressed and lit by the artist.
The gallery is open Wednesday to Saturday from 11:00 a.m. - 4:30 p.m.
Stonetown Arts | September 22 - October 15
Stonetown Arts is a community arts group that exhibits on the second floor of 147 Queen St. E.
Doors Open St. Marys | September 23
Residents and visitors alike can discover – and rediscover – St. Marys' impressive architectural history for free. Sixteen sites, including museums, churches, local businesses and more, are opening their doors on Saturday, September 23!
Several sites are offering an art show and sale, poetry and live music performances.
Free accessible Heritage Bus Tours departing from Town Hall hourly between 11:00 a.m. - 2:00 p.m. Call the St. Marys Museum at 519-284-3556 to register.
Visit the Doors Open St. Marys website for additional details.
St. Marys Farmers Market | September 23, 30 and October 7, 14
Enjoy locally grown vegetables and berries, frozen meats, home baking and preserves, organic produce and meat, goat cheeses, maple syrup, handmade soaps and so much more at the St. Marys Farmers' Market.

Crafts and photography for sale. Learn from the farmers who grew your food!
Talking About Treaty 29 | September 15 - November 30
Beginning on September 25, the St. Marys Museum will host an exhibit titled Talking About Treaty 29. The exhibit will examine the creation of Treaty 29, also known as the Huron Tract Purchase of 1827. It will also explore the history of treaties and how the ongoing rights and responsibilities impact the area now known as St. Marys.
The exhibit will be available for viewing during the Museum's regular hours of Monday to Friday from 9:00 a.m. - 4:00 p.m.
The Walk a Mile Film Project | September 27, 29
The St. Marys Public Library will show The Walk a Mile Film Project on Wednesday, September 27, and Friday, September 29 from 3:00 p.m. - 4:15 p.m. It is comprised of five short films: Coming to Terms, We are All Treaty People, A Legacy of Struggle, Targets & Heroes, and The Way Forward.
The Walk a Mile Film Project is "a series of 5 short documentary films that are designed to educate and encourage frank conversations in our community about the reality of the life and history of Aboriginal peoples across Canada."
Sunrise Ceremony and Sacred Fire | September 28
On Thursday, September 28, local Indigenous educator Patsy Anne Day will offer a "Sunrise Ceremony" as a way to give appreciation and express thanks for life and nature. The event will start at 7:30 a.m. at the North end of Milt Dunnell Field.
A sacred fire will also be lit and tended by firekeepers from 7:30 a.m. until 5:00 p.m. at Milt Dunnell Field. Those attending the fire will learn about the four medicines sacred to many Indigenous cultures: tobacco, sweetgrass, sage and cedar. Attendees are invited to add sacred medicines to the fire. Children will have an opportunity to create a feather craft keepsake.
Those attending are encouraged to wear an orange shirt to honour Survivors of residential schools, in support of the "Every Child Matters" concept.
Click here for more information about Truth and Reconciliation Week in St. Marys.
Sewing Machine Basics | October 3
Register to join the St. Marys Public Library and learn how to use our sewing machines, basic stitches, and make a small bag to take home! This program is free, and all materials are supplied. This program is for ages 16+, from 5:30 p.m. - 7:00 p.m.
Evening with the Artist - Bonn Richardson | October 3
Join Bonn on Tuesday October 3rd from 6:30 p.m. - 7:30 p.m. for an Evening with the Artist at Riverwalk Commons. Bonn will talk about her unique "En Plein Eau" painting process. She was the successful recipient of an Ontario Arts Council grant to display this work.
Light refreshments will be served, and recent works will be available for purchase.
Betty's Romance Book Club | October 11
Join Betty's Bookshelf on Wednesday, October 11 at 7:00 p.m. to discuss Back in a Spell by Lana Harper.
Crafty Tales | October 13
Join Laura at the St. Marys Public Library for rhymes, puppets, songs, shakers, and stories. Stay after the Storytime for a fun, keepsake craft!