Pride Banner Program
Downtown St. Marys is awash with colour thanks to our brand-new Pride banner program! 30 banners showing flags from various LGBTQ+ groups are now on display in our downtown core to celebrate Pride Month.
The banners can be found along Queen St., Church St., Wellington St., and Water St. Twelve of the banners show the Progress Pride flag; the remaining 18 show flags that represent sub-segments of the LGBTQ+ community.
The program was developed in partnership with Stratford-Perth Pride and is designed to promote inclusivity, build awareness, and celebrate all LGBTQ+ individuals in St. Marys and beyond.
#StMarysPride contest
Stratford-Perth Pride is running a contest based around our Pride banner program. To participate, post a photo of your favourite Pride banner on social media with the hashtag #StMarysPride. Each post is worth one entry into a draw to win $100 in St. Marys Money!
Learn more about the contest on Stratford-Perth Pride's website.
About the flags
We have partnered with Ms. DeBrabandere's Grade 7 class at St. Marys DCVI to develop a series of posters about the flags displayed on our Pride banners.
Browse the list below to view the posters and learn more about each flag's history and meaning (information provided by Stratford-Perth Pride).
You can learn more about the development of the Rainbow Pride flag and other Pride flags on Stratford-Perth Pride's website.
Pride Flags - Meaning and History
Asexual Pride Flag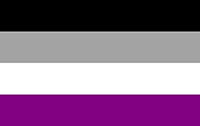 Asexuality is defined by a lack of sexual attraction. "They are not drawn to people sexually and do not desire to act upon attraction to others in a sexual way."
Asexuality is also a spectrum of attraction where people can fall into a subset called "gray asexuality." People who identify this way call themselves "gray ace." This spectrum includes people who feel sexual attraction infrequently, who only feel sexual attraction under a specific set of circumstances and more. The flag was created in 2010 to help create awareness to the community.
Black: Represents asexuality as a whole
Gray: Represents gray asexuality and demisexuality. (Demisexuality is defined as no sexual attraction unless there is a strong emotional bond according to AVEN)
White: Represents sexuality
Purple: Represents community
View the Asexual Pride Flag poster
Bisexual Pride Flag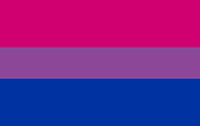 Bisexuality can be defined a few different ways depending on who you ask in the community. For many, it's seen as an attraction to both men and women. Others use it to describe attraction to more than one gender, but not all genders. Some even describe it as attraction to the gender you identify as and at least one other gender.
This flag was created by activist Michael Page. He wanted to create a symbol for bisexual people to feel connected to. Each of the colors symbolize some kind of attraction.
Pink (or magenta): Same-sex attraction
(Royal) blue: Opposite-sex attraction
Purple (lavender): Attraction to both sexes
View the Bisexual Pride Flag poster
Intersex Pride Flag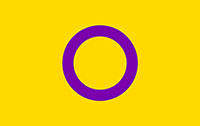 Intersex is an umbrella term for those whose bodies do not align with the gender binary of male and female. Some people can have both sets of genitals, various combinations of chromosomes or more differences.
This flag was created in 2013 by Morgan Carpenter: "I wanted to create an image that people could use to represent intersex people without depending upon what I think are often misconceptions or stereotypes."
Carpenter chose these colors as symbols to the community:
Gold or yellow: Inspired by a story told by fellow intersex individual Mani Mitchell to reclaim the slur "hermaphrodite" used against the intersex community.
Purple Circle: Carpenter said, "The circle is about us being unbroken, about being whole and complete," as well as the right for Intersex people to make decisions about their bodies.
View the Intersex Pride Flag poster
Lesbian Pride Flag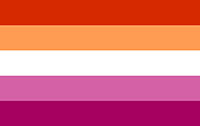 There have previously been other iterations of the lesbian flag, but this one, created by Emily Gwen, is intended to represent the full range of lesbian identities.
Dark orange: Non-conformity
Orange: Independence
White: Unique connections to womanhood
Pink: Serenity and peace
Dark rose: Femininity
View the Lesbian Pride Flag poster
Non-binary Pride Flag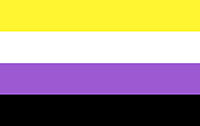 Similar to being genderqueer or genderfluid, non-binary people's gender identity fluctuates. This pride flag was created in 2014 by Kye Rowan for non-binary people who didn't feel the genderqueer flag represents them.
The term "queer" has also been used as a slur against the LGBTQ community, although many people have reclaimed the term.
Yellow: Represents genders outside of the gender binary
White: Represents people who identify with many or all genders
Purple: Represents genders that are a combination of male and female
Black: Represents people who are agender
View the Non-binary Pride Flag poster
Pansexual Pride Flag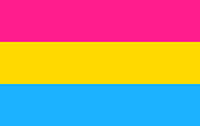 It's unclear who actually created this flag, but ever since it started showing up online in 2010, it's become a symbol of attraction to all genders.
View the Pansexual Pride Flag poster
Progress Pride Flag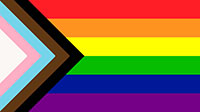 This flag was created in 2018 by Daniel Quasar in response to the City of Philadelphia's updated Pride flag. It combines the colors and stripes from Philadelphia's version of the Pride flag and the colors of the Transgender Pride flag.
On the flag's Kickstarter, Quasar says, "When the Pride flag was recreated in the last year to include both black/brown stripes as well as the trans stripes included this year, I wanted to see if there could be more emphasis in the design of the flag to give it more meaning."
The arrow points to the right to show forward movement, while being along the left edge shows that progress still needs to be made.
View the Progress Pride Flag poster
Queer People of Colour Pride Flag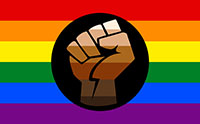 The origins of this flag are unknown, but it represents solidarity with the Black Lives Matter (BLM) movement and the intersection of the queer and Black communities. It gained notoriety in 2020/21 during the height of the BLM movement.
View the Queer People of Colour Flag poster
Rainbow Pride Flag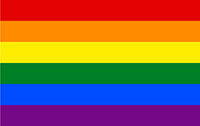 This iteration of the flag, which omits the pink and turquoise stripes from Gilbert Baker's original flag, has been popular since the 1980s. This flag is used to symbolize the overall LGBTQ community. Many organizations and businesses use this flag as a symbol to show that their establishment is a safe space for everyone in the community.
View the Rainbow Pride Flag poster
Transgender Pride Flag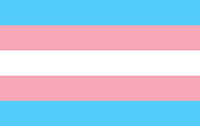 This flag was created by transgender woman Monica Helms in 1999. Pride quotes her saying, "The pattern is such that no matter which way you fly it, it will always be correct. This symbolizes us trying to find correctness in our own lives."
Blue: Represents boys
Pink: Represents girls
White: Represents people who are transitioning, have no gender or are gender neutral
View the Transgender Pride Flag poster
Two Spirit Pride Flag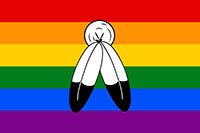 The term "Two Spirit" was adopted by native people in the early 1990s as an umbrella term and an alternative to Western labels. LGBTQ2S+ Native people throughout North America are reviving the two-spirit role and its traditions. National and regional Two Spirit gatherings, societies and powwows have continued to grow and grow. Two-spirit organizations have also begun to have a presence in local LGBTQ2S+ Pride parades. Since the beginning of the Two Spirit movement scholarship into the traditional identity has increased.
View the Two Spirit Pride Flag poster
Display a Pride flag poster in your downtown business
We're asking downtown business owners to volunteer to display the Pride flag posters in their windows so that visitors have an opportunity to learn about the different flags. The posters are 11 x 14 inches in size and should be kept in the window for the entire month of June.
Email communications@town.stmarys.on.ca or call 519-284-2340, ext. 432 if you would like a poster for your window.
Pride Month Events & Activities
Pride flag raising ceremony (June 1)
On Wednesday, June 1, we held a Pride flag raising ceremony at Town Hall. Thank you to all who attended and helped us celebrate inclusivity in our community! Pride flags will fly at Town Hall, the Municipal Operations Centre, the Pyramid Recreation Centre and the Fire Hall for the month of June.
Pride museum exhibit (June 1 - 30)
Starting on Wednesday, June 1, there will be a Pride exhibit at the St. Marys Museum outlining the history of LGBTQ+ rights in Canada and their impact on the St. Marys community. The Museum will be open Monday to Friday, 9:00 a.m. to 4:00 p.m. and Saturday and Sundays, 12:00 p.m. to 4:00 p.m. in June.
#PerthCountyPride Decorating Contest (June 1 - 30)
Stratford-Perth Pride is holding a contest for businesses, organizations and non-profits in Stratford, St. Marys and Perth County. Post a photo on your social media account of your organization celebrating Pride for a chance to win a $300 graphic design package.
More information about the contest is available on Stratford-Perth Pride's website.
St. Marys Pride Day (June 12)
On Sunday, June 12 from 1 - 5 pm, Stratford-Perth Pride is hosting the first annual St. Marys Pride Day!
This event is open to everyone – whether you are LGBTQS2+, friends, family or a supporter. We will have events for the kids, including balloons, Drag StoryTime, face painting and colouring station! Hot dogs, chips and refreshments will be available at minimal cost so come hungry!
Further details are available on Stratford-Perth Pride's website.